| | |
| --- | --- |
| | Patience Atteberry is our wonderful library assistant. She has worked as a volunteer in the library for 17 years and we are fortunate enough to have had her as a library assistant for 4 years. |
Our media center serves about 640 students and 75 faculty and staff members. Every class visits the library once a week for a scheduled lesson or independent reading time. Students also visit independently throughout the day. They come in to browse our online patron catalog, read and check out books, read magazines and other literature related materials, take AR quizzes and visit our pets! Many children enjoy coming in to just relax and enjoy reading in some of our special reading areas. "Franklin's Garden" is a fun place to visit and is great for students as well as adults to enjoy a quiet place outside to read or study and/visit with our four pet tortoises.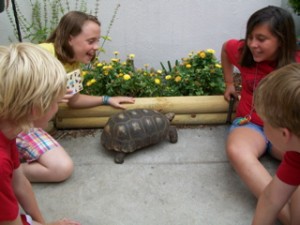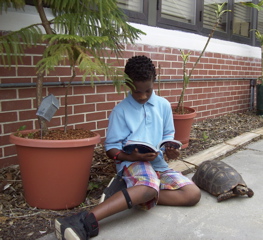 Media Center Resource Classes Kindergarten, first and second grade classes come to the media center for scheduled classes each week. This is a time for listening to stories, learning how to use the library and curriculum related activities. Third, fourth and fifth grade classes are scheduled for a lesson every other week and every other week for an independent reading time. Lessons may include  "book talks", library skills, information literacy lessons, and curriculum related research and activities.
Our collection houses more than 10,000 items which includes books, magazines, videos,  audio books (books on CD), computer software, maps, picture files, and many other print and non – print literature related items.
Parents are welcome to stop by from 9:00 -10:30 or 1:00- 2:30 to check out books and may check out up to four books at a time. Ms. Atteberry and I will be glad to show you around and help you find books to read with your children.