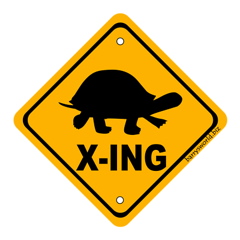 Library Pets  Reptiles in the library, EEK! We have lizards, fish, turtles and tortoises in the library.  Click on the links below to find out more about our much loved pets!
What are lizards doing in here!? Meet Spike and Chip, our New Caledonian Crested Geckos. Spike (left) is a female and Chip is a male. They have cute little spikey eylashes! Spike layed an egg last summer and we now have Cookie!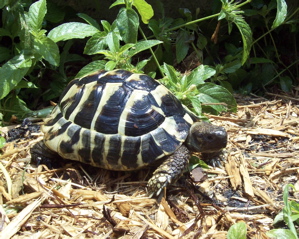 Boris (born February 2007) is a Herman's tortoise. Boris will live to be about 75 years old! He is the smallest of our pet tortoises.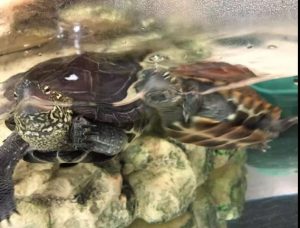 Meet Bob and George. They are Reeves turtles, one of the smallest turtles in the world!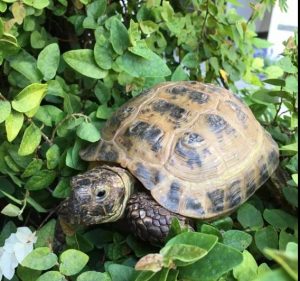 Shelldon is a Russian tortoise that came to live in the library in 2016. He is a very nice little guy and we are glad to have him with us!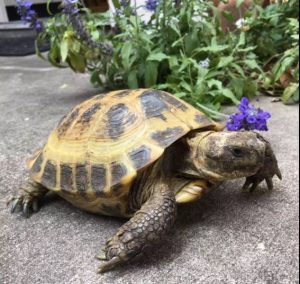 Veggie Girl is a lovely female Russian Tortoise. She used to live in Mrs. Eyestone's classroom but has joined the library herd now (a bunch of tortoises is a herd FYI).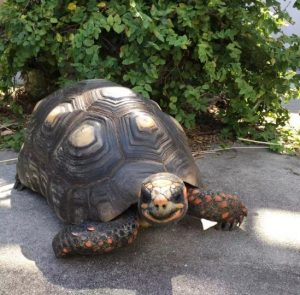 Franklin & Spot are  Red Footed Tortoises. Franklin weighs about 25 pounds.  The kids enjoy going outside to visit Franklin and he loves getting treats like grapes, strawberries and carrots from the kids! He has his own doghouse complete with door and heater for the winter. He was an adult when he came to live in the library garden so we don't know how old he is. Spot was born in August of 2012 and will be as big as Franklin one day!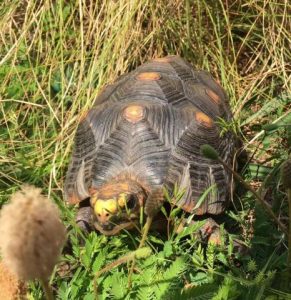 Our "Ugly Fish" are  Parrot Cichlid fish. They got their name from a book by the same name. The main character in the story made some bad choices and ate all of his friends.