Life is good…and busy…under the lighthouse!
Welcome to the R. B. Hunt website! This is a busy place with new things happening all the time. We hope you are able to find all the information you need right here; but, if there is something you need that you cannot find here, please don't hesitate to call or email for more information.
Summer Office Hours: 7:30 a.m. - 3:30 p.m.
Student contact hours: 8:25 a.m. - 2:45 p.m. - M,T,Th,F Wednesday - 8:25 a.m. - 1:45 p.m.
Marie Antoine,
Assistant Principal
We at R. B. Hunt Elementary School believe that all children can learn. We will provide children with a supportive, caring environment that develops self-esteem, self-motivation, and a sense of responsibility. We strive to provide every opportunity for maximum student achievement and to recognize and stimulate special talents in all students. The educational environment and the teaching strategies are designed to meet the goals and objectives of a strong curriculum. Our major goal is to prepare students to become responsible citizens and to take their place as productive members of the community. We believe that education is a cooperative effort among home, school,and community.
If you are a person with a disability who needs assistance and planning to attend a school meeting or program, please contact Marie Antoine with your specific need at 547-7959.
2021-2022 Instructional Materials Adoption for Mathematics UPDATE
St. Johns County School District curriculum department representatives and adoption committee members have completed the review process for the Instructional Materials Adoption for Math. On January 25, 2022, the School Board will conduct a public hearing to receive comment from the community regarding the final list of recommendations for instructional resources for this adoption. The public is invited to attend this hearing. The hearing will be held at 9:00 a.m. in the auditorium of the District Administrative Building located at 40 Orange Street in St. Augustine.
We encourage parent and community participation in our adoption process. Please visit our Instructional Materials Adoption web page to:
View the resources that are being considered for adoption.
Find out how to serve on a school committee and formally review the resources as a part of the school review team.
Learn more about the policies and procedures for textbook adoption.
B.E.S.T. Standards Presentation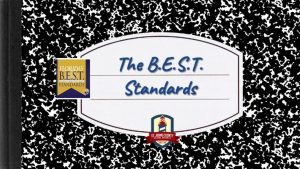 The purpose of the video is to provide parents and community members with information about the new B.E.S.T. Standards for English Language Arts and math. The video also explains the timeline for the implementation of the new standards.
View the B.E.S.T. Standards Presentation
Apply Now for the SJCCA Program at R.J. Murray Middle School
Families of Current SJCSD 5th Graders,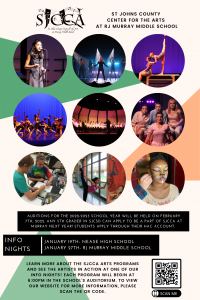 All rising 6th grade students are eligible to apply for admission to the award-winning St. Johns County Center for the Arts (SJCCA) at R.J. Murray Middle School. For over 20 years, SJCCA has been a county and state leader in arts instruction. SJCCA students consistently receive the highest ratings and awards at regional and state competitions. Students who attend SJCCA programs have the opportunity to learn and perform at prestigious locations including the St. Augustine Amphitheater, Broadway, and Walt Disney World. SJCCA students often continue to future arts success at prestigious post-secondary institutions.
To learn more about SJCCA, please visit the MMS SJCCA website or attend one of the following informational sessions:
Tuesday, January 18th at 6pm – Virtual Meeting
Wednesday, January 19th at 6pm at Allen D. Nease High School
Thursday, January 27th at 6pm at R.J. Murray Middle School
Ready to Apply?
All rising 6th graders may apply by completing the general application in
Home Access Center (HAC)
until
February 10, 2022.
Auditions at R. J. Murray Middle School will occur on February 7, 2022.
FortifyFL is a website and app developed at the direction of the Florida Legislature. Any student, educator, parent or member of the public can report school safety concerns directly to law enforcement and school administrators anonymously and easily through the FortifyFL app or getfortifyfl.com.